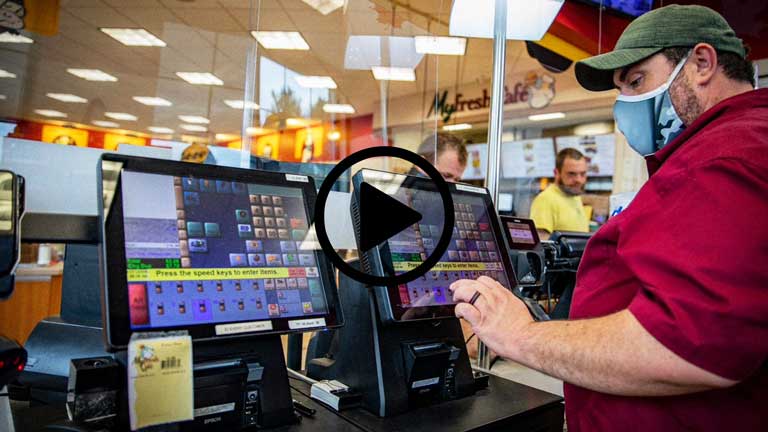 All-In: Why this C-store Brand Chooses the Same Provider for POS & Dispensers
The point-of-sale system is the nerve center of any convenience store, but for Maplefields it is truly the nexus of all their operations.
Passport® POS connects their forecourts, Express Lane™ self-checkout kiosks, Express Ordering foodservice kiosks, and more.
One Platform, One Team
"Having a different dispenser outside and a different POS provider inside is just not effective," says Maplefields' IT Director, Skip Potter. "It's not cost effective to do that. Working with everybody on one team, one platform, has been very beneficial to us. So, we eradicated eight sites immediately. Everything from forecourt, to inside – the [non-Gilbarco equipment] had to go."
Besides an integrated ecosystem, Maplefields needs a point-of-sale that's easy to learn. Using Passport, most employees are ready to serve after an hour of training.
"I can train anybody, even over the phone if you have a question," says Assistant Store Manager, Frankie Maskell. "The [employees] that I've trained have picked it up really fast."
Data-Driven Decisions
Compatible with the most third-party providers, Passport gives c-store operators the visibility needed to make critical decisions about inventory.
"We're constantly looking at data and movement reports. Passport combines with your back office provider, and that's where the nuts and bolts of your business come together," says Skip. "It takes information from Passport and makes it usable. You see the logistics and it lets you make decisions about which products we should continue selling."
Special Projects Manager, Brian LaBrie, knows just how critical Passport is to his operations.
"Our stores see hundreds and thousands of transactions per day," he says. When you're dealing with that kind of volume, you have to evolve your business tools."
Fill out the form below to learn more about the Passport POS ecosystem.