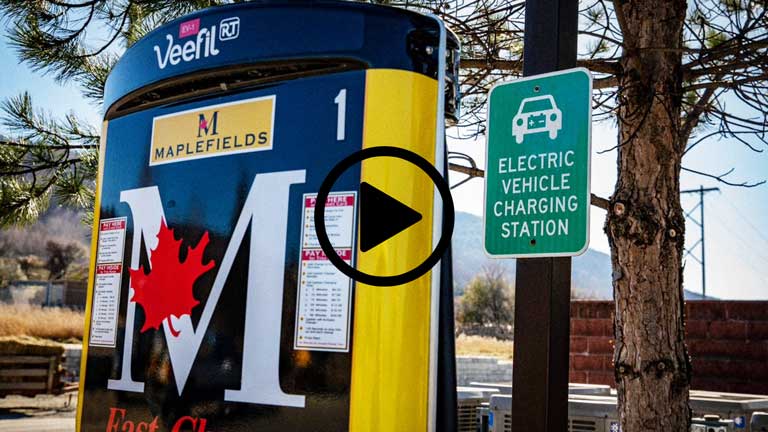 Charging Ahead: Gas Station Brand Finds Success with EV Charging
When you drive by a Maplefields location in Northern New England, you'll see a clean, well-maintained gas station and convenience store with a traditional forecourt.
At Maplefields, the forecourt is for fueling. But the definition of "fueling" is broader than most.
As you pull in, you'll see tried and true Encore 700 fuel dispensers lining the fuel island, but keep looking and you'll notice three other fueling positions that stand out. Maplefields features multiple locations with a bank of Tritium RT-50 DC Fast Chargers from Gilbarco's growing e-Mobility platform.
"Where the rest of the industry has not gone, we're going," says IT Director, Skip Potter.
Maplefields' General Manager, Otto Hansen agrees, "EV charging will be part of our landscape for years to come."
Skip and Otto were introduced to Gilbarco's e-Mobility portfolio at our annual Retail Technology Conference.
"I loved the sleek look of them. They're liquid cooled. They worked really well with very little maintenance," Skip says.
The chargers are located near the store under plenty of lighting for security at night. The bright, yellow customized branding make them hard to miss. Maplefields offers EV drivers clean restrooms, hot food, and free WIFI. Drivers use Google and other apps to easily locate Maplefields' chargers along their routes.
"[Prior to the pandemic], we were catching drivers coming in from the Canadian border, and vice-versa going into Canada," Skip said. "There was a tremendous amount of traffic going back and forth. Being right off the highway, this was a perfect location to be our flagship EV charging hub."
Maplefields' RT-50 DC Fast Chargers connect to virtually every type of electric vehicle and a customer can get a full charge in 20-40 minutes. The chargers feature a card reader and contactless payment terminal, recreating the pay-at-the-pump experience drivers know so well. The card readers, like the fuel-buying features on Passport Express Lane, were implemented by our engineering teams based on feedback from Maplefields.
Because the chargers are integrated into Passport, the store's existing POS system handles the transactions, making it a stand-alone-style charger. Learn about the differences between "stand-alone" and "network" chargers here.
There's no question that Maplefields saw an opportunity. The location offers a steady base of EV drivers, but data trends show customers aren't just charging. They're taking advantage of the store's other amenities (restrooms, food, and free WIFI), and spending more money during each trip.
"We want to give them the experience that brings them in, gives them what they want, and makes them say, 'wow, I'm going back there because it was exactly what I needed.'"
Otto sees the EV movement gaining traction and knows, "those who are just getting by will only get by for so long before they're passed by."
"We want to be part of that revolution."
Ready to get started on your EV charging plans for your c-store or gas station? Contact us today!