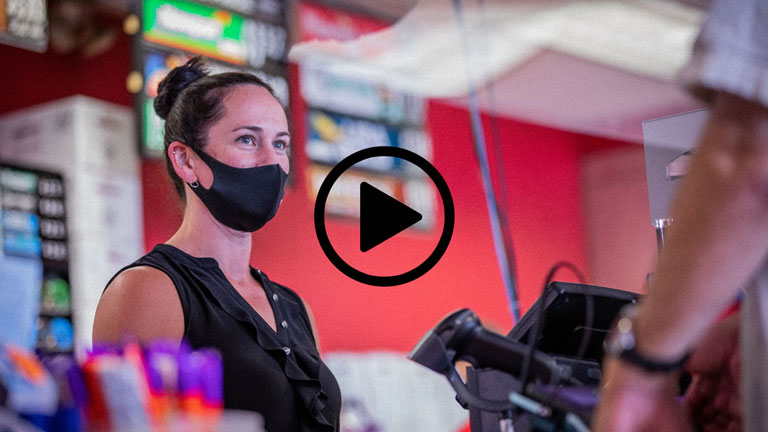 Family-Owned, Female-Led: Small Retailer Shines Spotlight on Women C-Store Operators
Square One Markets' flagship store in Eastern Pennsylvania is surrounded in floor-to-ceiling glass walls, but it's her industry's glass ceiling that President and CEO, Lisa Dell'Alba, continues to shatter.
In the traditionally male-dominated retail fuel business, Lisa is capitalizing on her unique opportunity to break barriers and push the industry forward. Take a look around at any of her stores and you'll find strong, female leaders ranging from managers to cashiers.
"There's nothing wrong with knowing how to change a nozzle on a gas pump," Lisa said with a smirk. "[Women] have a unique perspective. We have something to offer that can sometimes get missed, especially in an industry like ours." Lisa said. "You have to find balance and walk that walk of being tough."
But Lisa's toughness isn't some act to blend in with the guys. The Drive film crew found out first-hand how competitive she is with her business, even during her weekly Tae Kwon Do class.
Watch:
Over the years, Lisa's eagerness to learn from industry advocates like National Association of Convenience Stores and the volunteering of her own expertise earned her a seat on the NACS Executive Committee.
"[Convenience stores] are the mosaic of America," said Michael Davis, Vice President of Member Services for NACS. "We're constantly looking for and recruiting folks to join NACS, like Lisa, to get a seat at the table, and we're really proud of her."
At first, some colleagues were skeptical that she could handle the pressure of running a business, causing Lisa to kick some vendors to the curb.
"We really found partners that were supportive of what we were doing, and one of the biggest supporters was our Gilbarco Veeder-Root distributor," Lisa said.
Throughout the production of this chapter of The Drive, the crew heard the same word repeatedly being used to describe Lisa: "fearless." Taking the reins of an entire company that employs dozens of people is no easy feat. Upholding the legacy of her father, a man with decades of experience in the business, is a daunting challenge on its own.
"You want to talk about fearless? I think my dad was probably one of the most fearless people I've ever met. I'm certainly not fearless. I'm probably very fearful, but I don't want to miss opportunities just because of something that's in the way, or unknown." Michael at NACS sees it in a similar way, saying, "A hero is someone who's afraid, but does something heroic anyway. She is one of those people that, when she's afraid of something, she does it anyway."